Stargate II surveys have been deployed over several of the main mineral producing areas in North America.
As a result, on currently available claims, the SG II algorithm has identified  several anomalies with promising drill targets.
 For qualified companies and /or individual investors, ESSCO has some of these 'criteria-meeting'  mineral properties, including  prospective Precious Metal, Base Metal and Platinum Group Elements (PGE)   available for partnership or joint venture.
 West Timmins, Ontario- 
Drill-ready, with drill permit
Along the prolific Porcupine-Destor Fault Zone in the Abitibi Greenstone Belt, 6 km west of the newer  Tahoe Resources  Timmins West Mine,  the Stargate II  survey  identified  prospective  anomalies on these 100% owned claims.
 This is a drill-ready property, with government  permits in place. Drilling can commence within weeks of funding.
Qualified parties are invited to  contact ESSCO for more information.
Below is an area map showing the proximity (about 6 km)  of the claimgroup to the Tahoe Resources gold mine. The world famous Hollinger-MacIntyre Mine Complex which produced over 30 m oz. gold is about 20 km to the east along the Golden Highway.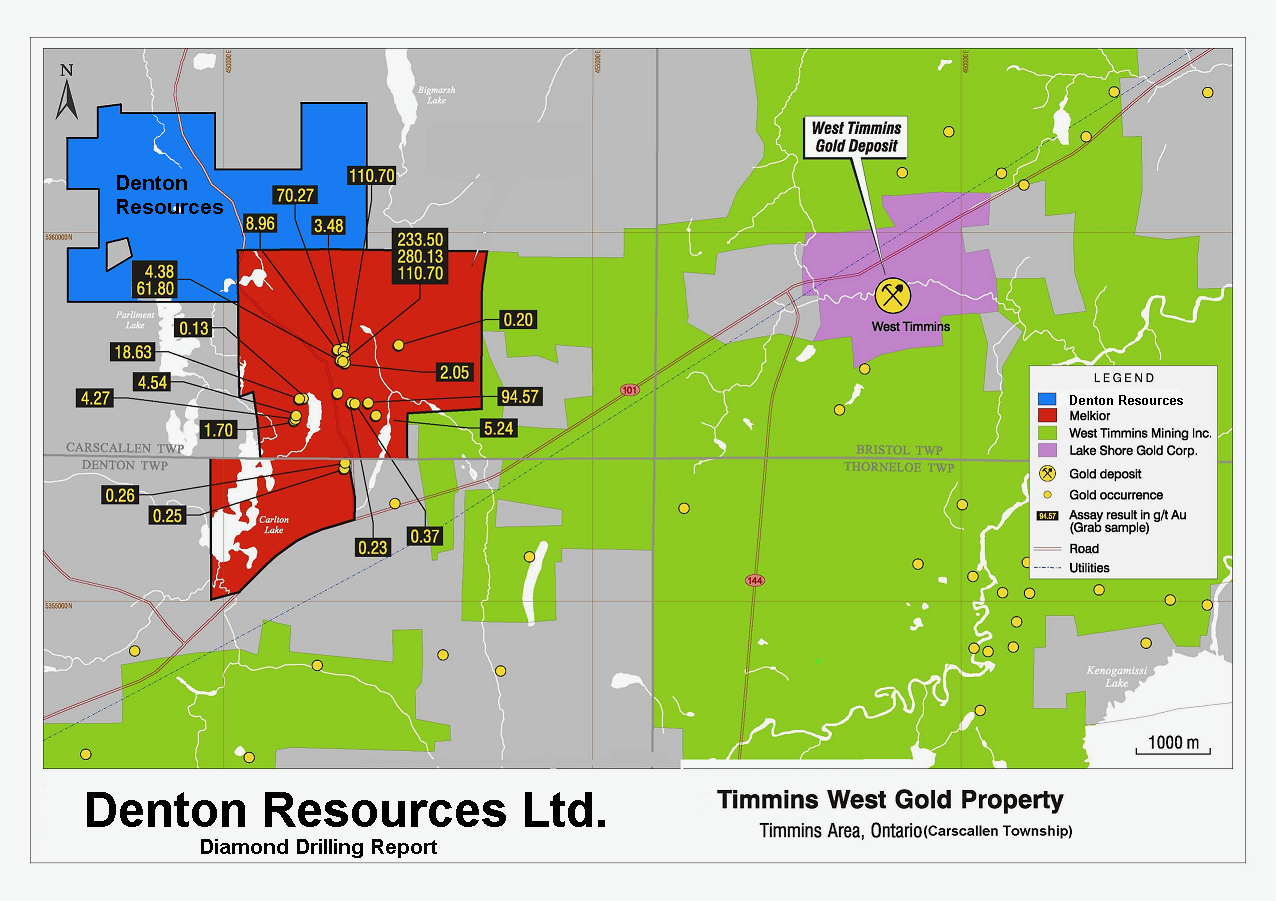 Below is a map of the privately-owned claims and the Stargate II proposed drill areas overlaid on a general geology map of the township
Below is an earlier  OGS township map illustrating the complex geology of the area. Note the  PDFZ fault to the south, and the  other major faults and splay fault zones. Other OGS research indicates that most of the gold production  along the PDFZ occurs in splay faults branching  off from the main Porcupine-Destor Fault.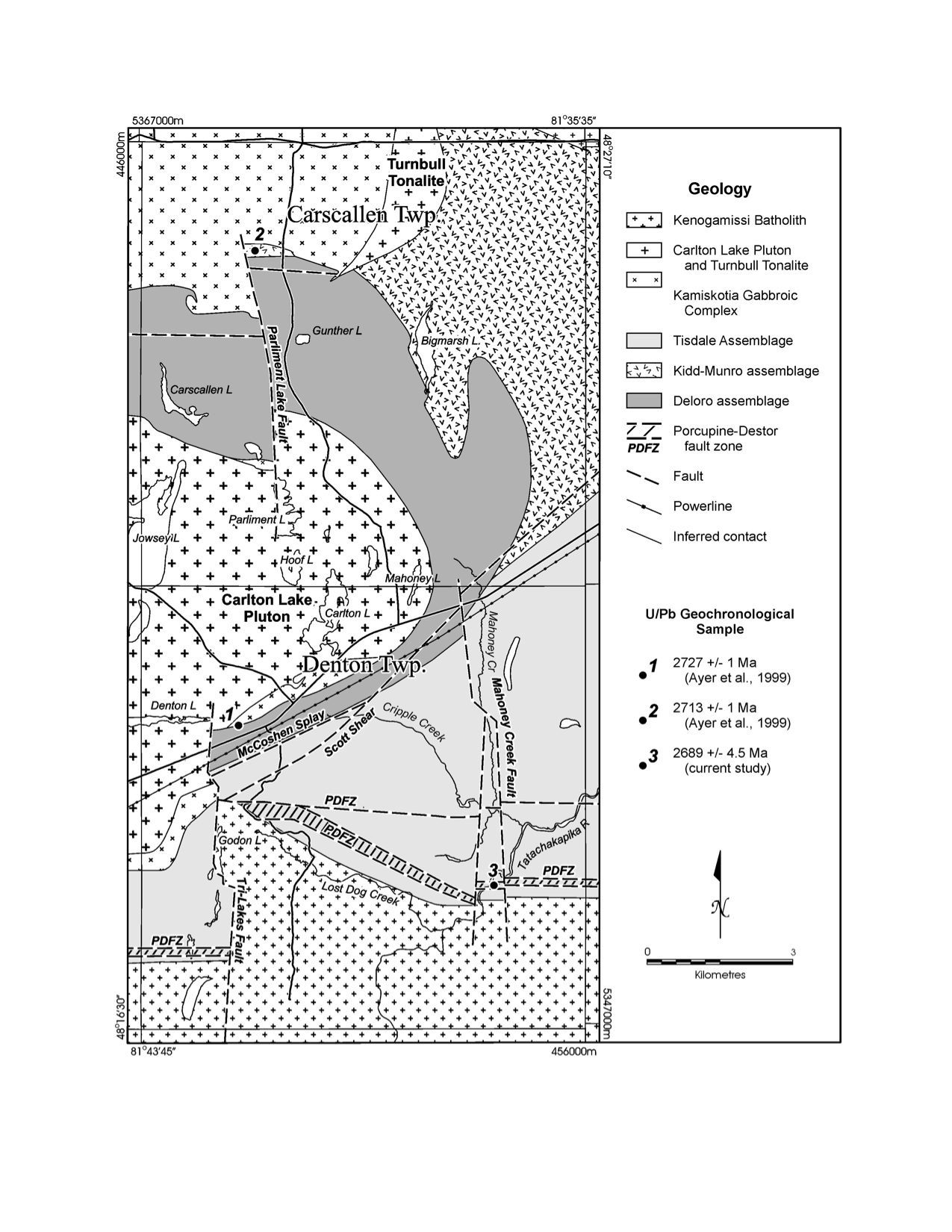 Below is the Stargate II  overlay survey map of the privately owned Carscallen claims. 
In this proven gold-bearing area,  SG II data has outlined the structural sources of the mineralization and identified the primary drill targets on this highly promising ground.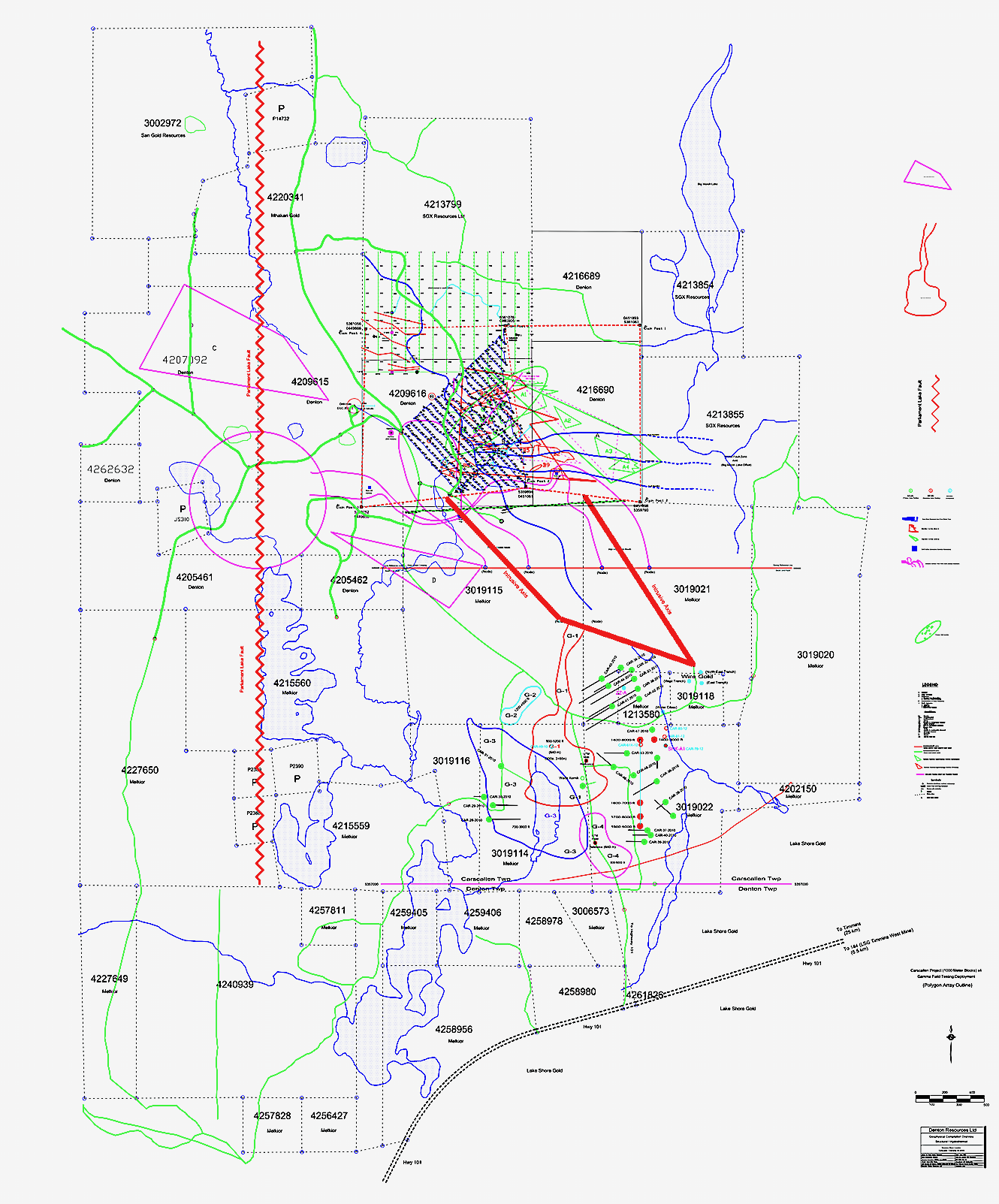 Below is a map of the nearby  Keefer Twp. Stargate Project. SG II surveys here have identified key drill targets in this  very promising claim group in the Timmins west camp.
East Timmins-
There is tremendous potential for Base and Precious Metal and PGEs along the Porcupine-Destor Fault Zone (PDFZ) along the 'Golden Highway' east of Timmins-
Several claimblocks are available in this established mining area.