Highlights- 
ESSCO - Exclusive providers of the proprietary Stargate II (SG II) Drill Target Modeling  System, now incorporating ' Acoustic EM '  analysis.
Our performance guarantee is unmatched in the industry. You achieve positive results, or there is no fee for the survey and target data.
Stargate II surveys acquire data from much greater depths than other geophysical systems. Our Crystal Harmonics platform is a disruptive technology, allowing for unprecedented Passive EM depth penetration, rivalling today's standard AMT ground surveys. This exclusive airborne system makes possible regional scale 'Ultra Deep' (+2500m) ductile level structural trend modeling. Currently, deep trend modeling relies on costly and time-consuming drilling and down-hole processes.
We have access to an extensive SG II survey database from established mining areas, and can efficiently cover new, uncharted territories.
The Stargate II hardware's superior target discernment  capability, together with its proprietary  algorithms and software, effectively provides  very specific drill point vectors, allowing for a single hole test of the outlined anomaly. If the predicted mineralization is encountered, then folllow-up drilling is performed, and definition of a new mineral resource can begin. 
The  airborne Stargate II Enhanced AMT Survey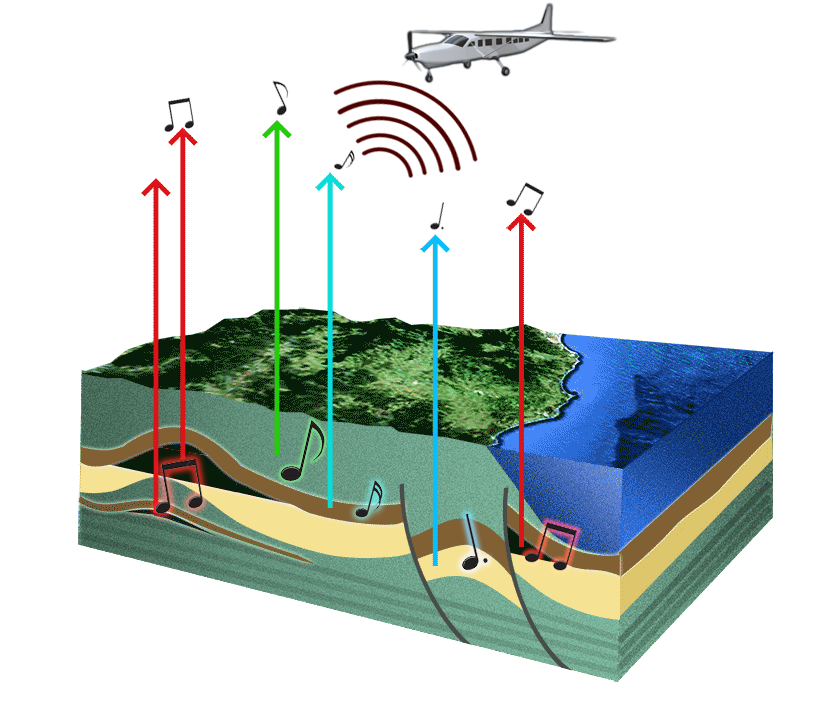 Earth Science Services Corp.
Our unique Stargate II (SGII) system employs an enhanced deep-penetrating ultra-sonic AMT (Audio-Magnetotellurics) geophysical survey. The method incorporates proprietary algorithms, software and hardware. The accuracy of the system is unmatched in identifying structural environments. In the limited case studies performed to date, predicted structures and source target resolution at significant depths have been verified. SGII provides a singular capacity to recognize structure beneath extremely resistive granitic rock cover and varved sand/clay environments. With this method, costly exploratory drilling has a much improved chance of success. 

Another feature of SGII is that it is effective at identifying large, often deep structures. So ESSCO has chosen to focus its resources on targets meeting the minimum size/volume criteria of select mineral deposits. The current economics of the industry dictate that it is these very large orebodies that have the best chance of being developed, or attracting the interest of a major producer. 

What is of particular interest to the industry is how SGII can accurately test a property with only 2 drill holes. These will either confirm the target and mineralization, or eliminate the property as worthy of continued exploration. 

In many cases, these target holes are deep, and therefore costly. The SGII anomaly will predict the structure at depth, and  identify the relevant drill target vectors and pierce points. Too often projects are being tested with many shallow holes into random, often barren geophysical anomalies. SGII is able to filter out barren VTem anomalies. (see the Adamera example in Case Studies) 

The Stargate II System has been deployed  over  the most important mineral producing areas of Canada, the USA and Mexico The data acquired from these surveys has been analysed and processed through the SGII  proprietary software and algorithms. In each key mineral producing  area, a large database of highly prospective anomalies has been identified. Some of these are herein illustrated. See Case studies or B.C.'s Golden Triangle - Stargate II Structural Interpretation of Garibaldi, Metallis Resources and Eskay Mining. 
Attention :Golden Triangle claimholders- 
The Stargate II Surveys were deployed here and covered 90% of the area. This  data is available from ESSCO, including  analysis and drill target vectors. Contact us for details.
Please note: The SGII surveys  from 2008-2010 in B.C. identified the main sources of mineralization (structural feeders) See the maps in the link to B.C.'s Golden Triangle. Recently, renowned expert and geology textbook author Dr Lightfoot, working with Garibaldi Resources (GGI) and Metallis Resources (MTS) outlined his  interpretation of the area, and called the feeder source  'the Magma Highway'.